Instagram Updates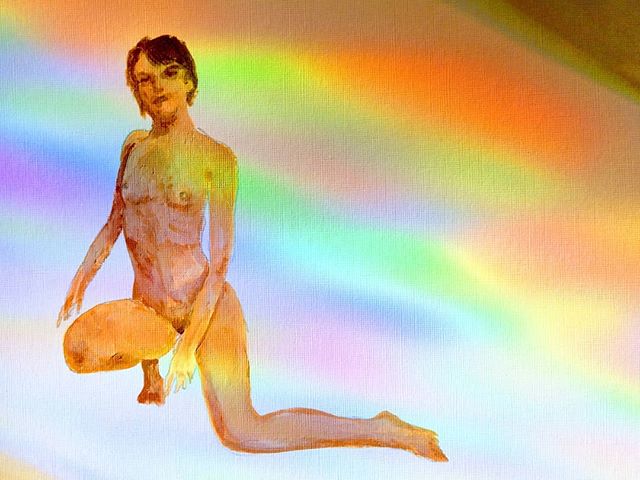 When I don't post paintings for a while it usually means I'm trying to paint realistically. I don't share them much as I have a long way to go skill-wise. This one didn't come out so bad. The colorful lighting through the kitchen faux stained glass added a cool background.
Here's my awesome original F13 piece from @vhsgirl next to my portrait of Jack Kirby's Dr. E. Leopold Maas (I used to imagine the "E" was for Emerson as a kid.) This is in Creature 2's room. Pink walls. . #fridaythe13th #jackkirby #vhsgirl #dreleoploldmaas
RIP Daniel Johnston. The greatest American singer/songwriter of all time. This drawing of his hangs in my hallway. Horribly sad day.
Fantastic time in SF yesterday. Found some rad comics at Silver Sprocket. Saw the Warhol show at SFMOMA and accidentally found Thatcher's popcorn factory and snuck around a bit and even up buying eight bags of popped corn! Delish! Of the comics, I've only read Emotional Data and it rules the school. So good. Will get more comics from Abby Jame.
Favorite artist of the moment: Vivienne Flesher. First time visiting the Minnesota Street Galleries yesterday. Most Galleries were setting up for September, but Jack Fischer Gallery had this amazing show. Love her portraits! Check her out.
At the grocery store. Hmmmm. 50th anniversary of Tate-LaBianca murders Life magazine special edition. Let's see. BAM! There's my dad on page 17. Goose bumps engaged.
Mirror Mirror show coming down today. Thanks to everyone who came and directed their eyeballs to the work. Fun show.